I was just informed that I am now the only supplier of these shades. And with costs of materials rising there is a likely chance that prices will have to increase soon.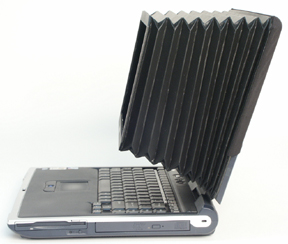 The Laptop Privacy Hood (Laptop Screen Shade) is great for glare reduction and privacy.

It can also be used as a light shield for astronomers. Use this item to prevent light from bothering the astronomers around you trying to view the stars, planets, moons, clusters, and nebula above when you really need it to be dark, but you still want to use your astronomy program to find things or control your telescope.


Incorporating a unique self-supporting technology, the hood can be manipulated to any angle and once positioned, will remain rigidly in place. The back of the hood slips effortlessly over a laptop screen without the need for awkward fixings.


To ensure that you receive the correct Laptop Hood, measure the HEIGHT and WIDTH of your laptop lid before ordering. There are the four sizes available with the dimensions of the lid provided (and a helpful guide of screen size as well):
| Model Number | Dimensions in Inches | Laptop Screen Size Suggestion | Cost of Black in USD |
| --- | --- | --- | --- |
| LPH1 | 9-9/16'' x 11-3/16'' | Up to 12" Screens | $180 |
| LHP2 | 10'' x 12-5/8" | Up to 14.4" Screens | Special order only - $200 |
| LPH3W | 9.75" x 13.75" | 15" Widescreen | $180 |
| LPH5 | 10-3/8'' x 15-1/2" | 17" Widescreen | $195 |
---
If you are interested in purchasing a hood please a dealer from our dealer list or us directly. Online ordering is available via dealers and through us via Paypal.
---
If you are unsure as to which item you need, or if you have any questions please contact Michael Canham for further information.

You can reach us at:

480.518.5097
If you are just requesting this item, the Digi Hood, or the Video Screen Shade you can email us at: mqcanham@canhamcameras.com

---
Last updated 01/12/2014
Copyright © 2000-2014 K. B. Canham Cameras. All Rights Reserved